About
THE COMIC: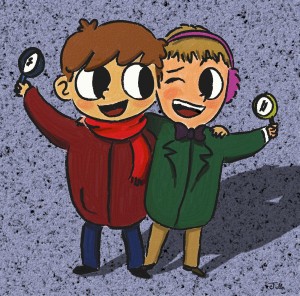 The Boy in Pink Earmuffs is a serial webcomic about two 10-year-old boys, JJ and Danny, who just so happen to fall in young love. More than that, it's goofy story about friendship, childhood, and growing up!
ABOUT ME: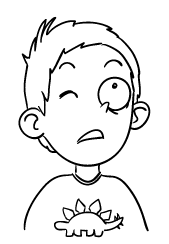 Hi I'm Jay and I like to draw.
I grew up in Narragansett, Rhode Island and Zionsville, Indiana, but currently reside in Chicago, Illinois. In 2007, I graduated Cum Laude from Boston University with a Bachelor of Science in Film and Television and a minor in English. While in college, I drew a single panel comic called "Depth Deception" for the Daily Free Press. I also wrote and directed several episodes of the BUTV10 science fiction series "Shadows." Writing original music continues to be one of my many passions and I've been fortunate to compose the scores for several short films.
My interests include, but are not limited to, new media, film, literature, music, interactive entertainment, animal care and biological science.
The Boy in Pink Earmuffs is very loosely based on my own childhood growing up in Rhode Island shortly after I moved to a new neighborhood. I'm blind in my right eye and pineapple is my favorite fruit.
I also draw a comic called Banapplenut. Check it out, whydontcha?

PRESS:
Interview with Gabe Canada from the Kind of Epic Show on Sequel-Buzz
Queer COMICSPALOOZA! Podcast with the Comic Book Queers
Queering the American Comic Book by Chrissy Lee from the Medill Equal Media Project
CONTACT: